Here is the concept for a new stump carving.  This drawing is not a true representation of the finished piece but has been drawn so that the posture of every animal and its location in relation to the other animals is shown. The stump is white pine and is 24" in diameter and 8' tall.  The sculpture is to be centered on animals native to North Carolina and carved in such a way that an animal visible no matter where the viewer stands.  The eagle will be modified to a perched eagle which does not appear in the drawing.  The flying eagle was replaced when we realized there would be enough wood and space to include a more dramatic pose.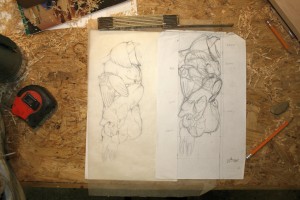 The first phase called blocking out is basically just cutting the animals to rough shapes.  The eagle will set the scale and foundation of the carving so it is roughed in first. At this point a mental image of the finished piece is in place and every animal's location on the tree has been placed.  The animals are sketched in using the saw to outline each animal on the stump.  The cuts are very shallow allowing for modifications if they are needed.  Here I am using the small saw with a carving bar to do the sketch work.  This saw is generally used for small detail work because of its light weight and ease of control.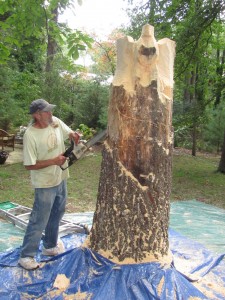 The wolf is being drawn in with the saw and the bear cub face is visible just below the eagle on the left side of the stump.  Once the design is placed larger and deeper cuts are made bringing more shape and dimension to the animal.  Here the owl is being blocked out.  At this stage there is a great deal of flexibility to alter the design or correct mistakes in the layout.  The carving definitely takes shape fast during this stage.